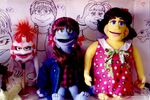 Whatnots are blank muppet heads that are commonly found in Muppet productions, usually wearing different eyes, hairstyles, noses, clothes, accessories. In The Muppet Show, there are Muppet characters who are Whatnots, including Lew Zealand, Scooter, Bobby Benson, Marvin Suggs, Svengali, and Wayne and Wanda, among others. In the first two seasons, the whatnots were mostly shaped like Fraggles from Fraggle Rock. In later seasons, more humanoid whatnots were added to the cast with scuplted noses.
Recently in 2008, FAO Schwartz added a Muppet selection to their shop and online website called The Muppet Whatnot Workshop, where the customer makes their very own custom whatnot. Also, in 2011 in promotion of The Muppets, Toys R Us released Muppet Whatnot Puppet Kits where the customer who buys it gets to create a whatnot of their very own.
In The Adventures of Timmy the Tooth, three female whatnots were featured including a blue whatnot named Bubbles who always joins Timmy on his adventures and tends to take lead of things, a yellow whatnot named Annette who is exactly a ditz but is always there for her friends, and a yellow elderly whatnot named Sherry.